The BraBall now has a permanent home! You can now see this remarkable, collaborative sculpture at the American Visionary Art Museum in Baltimore, Maryland. It's on display in the James Rouse Visionary Center at AVAM. This wonderful, quirky museum is the perfect home for the BraBall. Check the museum's website for visiting info: www.avam.org.

Thanks to everyone who helped create the BraBall sculpture. Your enduring "support" was the fuel that made this art piece a reality. Special thanks to Kelly Lyles for opening the door to the AVAM.
---
The BraBall was stored in a locker for two years before I was able to donate it to the AVAM.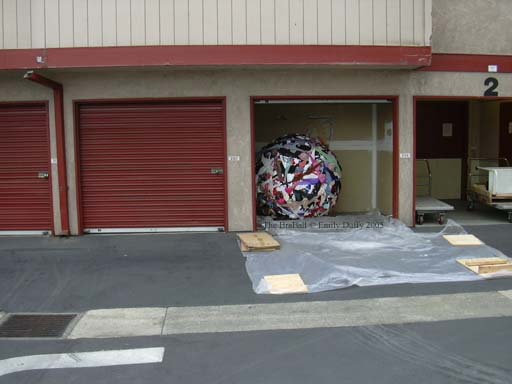 Joel, Tom, and Chris from Atthowe Fine Art Services www.atthowe.com came out to the storage locker to pack and transport the BraBall to their warehouse.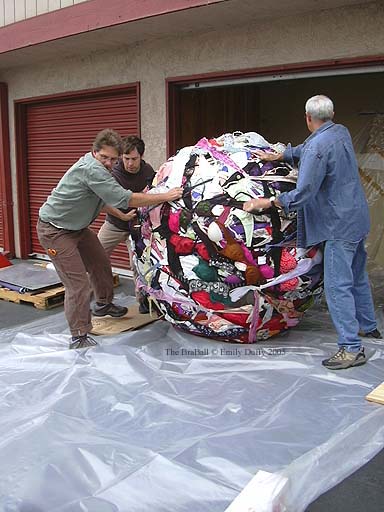 They wrapped it in heavy-gauge plastic, and then shrink-wrapped it.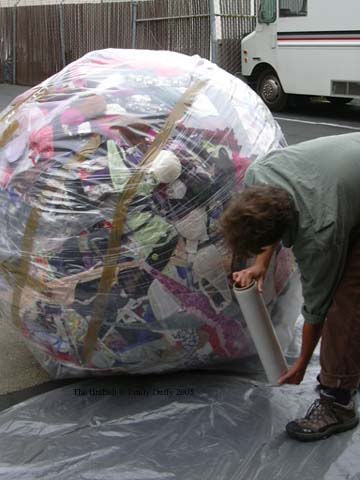 Then they pushed the wrapped BraBall onto a pallet (which made horrible cracking sounds) and lifted it with a pallet trolley.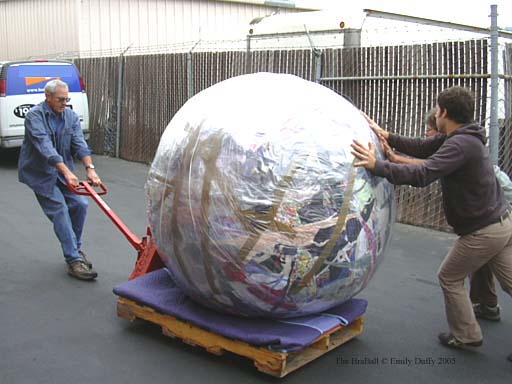 The BraBall was then lifted into Atthowe's specially outfitted fine-art moving truck.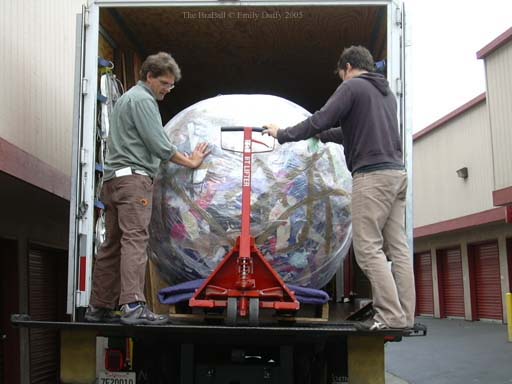 Once it reached Atthowe's warehouse, the BraBall's pallet was reinforced, the sculpture was secured with wire straps, and corners were added to keep it from getting loose while in transit. They also weighed the sculpture, and I was amazed to learn that it did indeed weigh 1800 pounds, exactly as we estimated it would.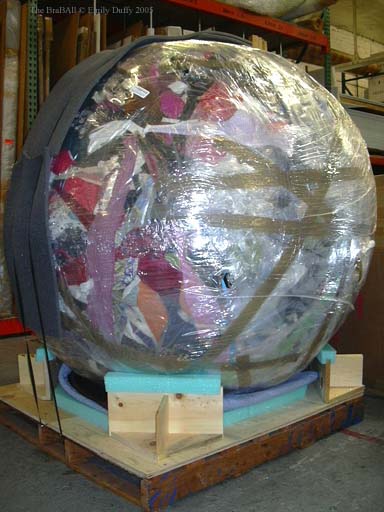 AVAM sent a cross-country moving van to pick up the BraBall in October 2005. Now it is on display and you can see it in person!
Photos on this page by Emily Duffy.